You may wonder whether cramping, even if it is a few days before your period is due, is a sign of pregnancy. Unfortunately, when it comes to Ovulation Cramps vs Implantation Cramps, there is really no way to be sure.
In the early stages of pregnancy, it is impossible to tell whether any symptoms you're experiencing are indicative of pregnancy or if your period is on its way.
What exactly are Implantation cramps?
One of the first signs of conception is implantation cramps. During conception, the sperm fertilizes an egg in one of the fallopian tubes. The cells begin to divide and multiply within 24 hours.
It takes the fertilized egg three to four days to move from the fallopian tube to the uterus, where it becomes a blastocyst.
A blastocyst implants itself in a uterine lining once it reaches the uterus. Implantation may cause cramps, a condition commonly referred to as implantation cramps. The pain is usually mild and accompanied by implantation bleeding or light spotting. Not all women experience implantation cramps.
Are Implantation Cramps Painful?
There is no pain or discomfort associated with the implantation of the embryo in the uterine wall. The process takes place on such a small cellular scale that it is simply impossible to feel it.
There is a high probability that people who refer to implantation cramps are referring to other processes occurring within the body that are causing mild cramping.
Progesterone May Cause Cramps
During the luteal phase, just before your period is due, progesterone levels are high. As a result, cramps occur as your digestive muscles are relaxed and digestion is slowed.
At this point in your cycle, regardless of whether you are pregnant or not, you will experience a high level of progesterone, so if you have mild cramping in the days leading up to your period, it may be an indication that implantation has already taken place.
Getting cramps during implantation shouldn't be considered an indication that you're not pregnant.
When does Implantation Occur?
The vast majority of the time, implantation occurs between 8 and 10 days after ovulation but can occur as late as 12 days after ovulation.
Even if you were planning on getting pregnant this cycle before implantation, you are not yet expecting. None of the symptoms you experience will impact your chances of getting pregnant.
It is very useful to track your cycle for this reason. You can calculate the number of days past ovulation if you know when you ovulate. Therefore, you will know if the symptoms you are experiencing are even related to pregnancy.
The cramping you experience after ovulation can help you put things in perspective if you're only five days past the ovulation date. Due to the fact that implantation doesn't exist yet, you can give yourself permission to stop thinking about it.
There's no conclusive way to determine if bleeding or cramping before your period indicates pregnancy. Therefore, the best course of action is to wait until your period is supposed to arrive and then take a pregnancy test.
RELATED: Failed Induction of Labor: Why does it happen?
Do Implantation Cramps Feel like Ovulation Cramps?
The lining of your uterus becomes inflamed after an egg is implanted. In most cases, these implantation pains are milder than menstrual cramps and occur between four and eight days before your period is due. It is also possible to have implantation bleeding, which is lighter than typical bleeding. In case of heavy bleeding or severe pain, get in touch with your healthcare provider.
Where do you Feel Implantation cramps?
Most women report cramping in the lower abdomen and lower back during implantation. It is possible for cramps to affect one side only at a time.
Implantation symptoms are generally felt in your lower abdomen, in the same area as period pain. Due to the similarities, many women may mistake this for the beginning of their period.
Nevertheless, you may also experience other implantation symptoms, just as you would during your period. If your breasts are swollen, heavier, or painful, you might notice them. As well, you may feel generally fatigued or moody, or you may experience particular cravings for food.
What do Ovulation Cramps Feel Like?
The pain of ovulation is different from menstrual cramps that occur during or just before a woman's period. It is easy to recognize ovulation pain because it has a number of symptoms that are different from menstrual cramps.
The Signs of Ovulation Pain Are: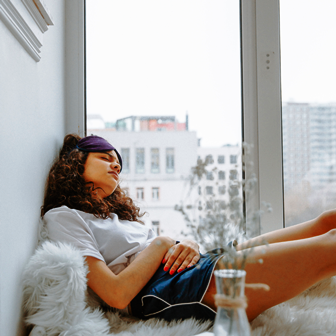 The onset is sudden and without warning.
It is only felt on one side
Sometimes it lasts only minutes, but sometimes it can last for hours or even days.
There may be a change of sides from month to month.
Instead of a dull ache, there is a sharp pain, twinge, or cramping.
Usually, it occurs two weeks before the start of your period.
Signs of a Successful Implantation?
1. Changes in breasts
You begin to experience changes in your body soon after implantation. In addition to tenderness, soreness, and swelling, the breasts go through various changes. The reason is the change in female hormone levels after conception. The changes are sometimes visible during ovulation or afterward.
2. Bleeding after implantation
Implantation is characterized by the embedding of the embryo into the uterine wall, and it is one of the primary symptoms of implantation. Bleeding after implantation may be pink and scanty, not as red and heavy as bleeding after a period. Clots do not form and bleeding is unpredictable. The bleeding may last for a few hours to two days, on and off.
3. Constant urination
Your urge to urinate may become more frequent within a week of implantation. Increasing the blood supply to your pelvic region may increase the pressure on your bladder, causing an increased urge to urinate.
4. Body temperature
A high basal body temperature is a possible indicator of pregnancy during implantation. Unless you are trying to get pregnant, you might not monitor your body temperature. To determine whether your daily temperature is increasing, you must chart it daily. During ovulation, progesterone hormone elevation causes the body temperature to rise.
5. Implantation cramps
Another common symptom after spotting is cramping during implantation, which is similar to period cramps. The cramps, however, are milder and less painful and may last for a couple of days. Lower back pain and abdominal cramps may also occur. Sometimes, those symptoms may be related to continuous uterine contractions. In the case of severe cramping that is unbearable, you may wish to consult a doctor.
6. Cravings or dislikes for food
Women\'s likes and dislikes for food are affected by hormones released during implantation. You might crave foods you have not tasted before or dislike foods you once enjoyed.
Other common signs of Implantation:
Bloating
Changing tastes
Blocked nose
Constipation
Final Thought
It is common for a woman trying to conceive to look for pregnancy signs, such as implantation cramps. Ovulation cramps or implantation cramps are possible depending on the timing. Ovulation cramps usually occur 14 days before your period begins in a 28-day cycle.
You would feel implantation cramps a week after the egg burrows into the uterine lining if you are on a 28-day cycle.
I hope you find this Ovulation Cramps vs Implantation Cramps guide useful.