For moms, returning to work after maternity leave is always a challenging situation. For one, you have bonded with your baby, which means leaving them will be difficult.
You may also not be comfortable with leaving your baby in the care of someone else as you are not sure if they will provide the right care and attention to your baby.
For some mothers, however, it is a time to look forward to knowing that they will leave the baby with someone they trust as they focus on earning money to take care of their baby.
For the most part, however, it is often not a smooth transition. There are a few things that you can do to make it easier though.
Let's find out!
1. Develop a Routine
A good place to begin is by developing a routine. Perhaps you need to ensure you leave instructions or pack the baby's bag with the essentials before sending them to daycare. You may also need to pump breastmilk for the baby to take during the day.
Point is, to get it right every time, you will need to make such habits a routine. That way you know exactly what you need to do before leaving the house.
2. Practice Your Routine Before Starting Work
A great way to find out what works and what doesn't work is to have a trial run. Practice the morning routine before resuming work and see whether you will need to add certain things into your routine.
One great thing about practicing the routine is that it provides you with free time by yourself. You may even decide to get your hair or nails done.
3. What Age Should Mom go Back to Work?
There is no definite answer to this question as every mom's situation is different.
It\'s often a matter of your personal circumstances and choice, whether you're looking for an excuse not to return to work or you really need that paycheck again. Some moms have gone back as early as 6 weeks.
4. Start Mid-Week
Regardless of you having a practice run on your routine, nothing beats the real experience. If your routine is not perfect, it may leave you feeling overwhelmed and may affect your baby's wellbeing when you are away at work.
To help ease the transition for both you and baby, consider starting the routine mid-week. In this way, you will have the weekend after just a few days and this will give you time to re-evaluate the routine and improve it where need be.
5. Adjusting to Returning to Work
Going back to work after maternity leave is never easy, you will need to be very patient with yourself and expect not to have things go perfectly. Start by talking to your boss about your new situation, and be sure to ask for help when you need it. You should also be aware that coworkers, especially those without kids, may not understand your situation.
Do not neglect your physical and mental wellbeing, take care of yourself first so that you can better care for your baby and your family.
6. Make It a Gradual Transition
When you return to work, you can also make use of your leave days beforehand, if possible. You can take a few days to go back home and spend time with the baby. This makes the transition more manageable for both you and your baby.
You also have time to reflect on your routine and make changes where necessary. As for babies, the transition doesn't have to be abrupt which makes it easier for them to also adapt to spending time when you are not home with them.
7. Babies Suffering When Mothers Return to Work
Working mothers strive to find the best care possible for their baby before they return to work, because of this, if a child is left in good hands while the mom works, the baby will not suffer. Research has also shown that there is no direct correlation between working mothers and child development. Children are not harmed by their mothers\' working.
8. Fighting Against Quitting Work
Many moms feel overwhelmed trying to juggle a baby and a career. It is not surprising to contemplate quitting work to take care of the baby. However it doesn't have to be like this and with careful planning, mothers can manage both work and baby.
Start with affirming certain realities into your life such as what you are going through is only temporary and has been achieved by other women.
Also learn to become patient and don't rush into making decisions. You may just find a clever way of managing your time, your baby, and your work.
9. Returning to Work Part-Time After Maternity Leave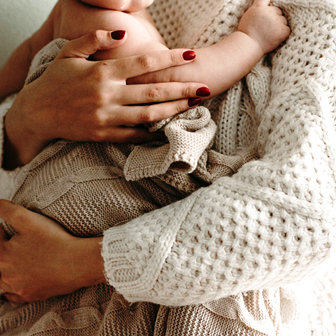 It is not uncommon for new moms to want to return to work on a part-time basis. The barrier to this is that some employers will not agree to this change for one reason or the other, while other good employers are happy to negotiate this change with their employees.
Working part-time could not be possible for you if you carry your family's insurance, as there is a requirement to the number of hours needed to qualify for health insurance.
10. Work From Home Where Possible
If you are lucky enough to have a job that allows mothers to work from home a few days every week, then you should take advantage of this. It is an excellent way to help the baby transition and get used to the new changes.
Remember that you will also need to consider how you will remain productive while working from home with the baby. Make a plan and stick to it. See how this works the first week. Did your productivity drop or remain the same? Make the necessary changes to your schedule if needed.
Remember that you will also need to factor in the need for assistance.
11. Talk to Other Working Moms
Chances are that there are other working moms in your organizations even if they may not be talking about it. Some returned to work earlier than you while others have done it multiple times before.
By chatting with them, you get to learn what worked for them. New tips and tricks will help you run your routine more efficiently.
You may even want to start a group for working moms where they share their experiences and their stories. This can help other pregnant women in the office to better deal with the situation when their time comes.
12. An Opportunity to Grow in Your Career
This is how you should view returning to work after maternity leave. There will be so many life lessons and skills that you will have learned simply from being a mother. For one, you know how to be more patient and more efficient.
For instance, you can get work done within the shortest amount of time possible a skill that you would have learned from handling a baby and taking care of house chores when the baby takes a snooze.
13. Employer Asking if You Are Returning to Work After Maternity Leave
Unless you bring up the topic, employers cannot ask you questions about when you plan to go on maternity leave or for how long your leave will be. Also, questions about your plans for childcare after baby comes are off-limits.
14. How Long Until You Get Maternity Pay Again?
According to current regulations, you can start your next maternity leave at the beginning of the 11th week before the week your baby is due. You choose when to begin your next maternity leave, and you should notify your employer of the date by the 15th week before your baby is due.
15. Do You Have to Return from Maternity Leave?
If you returned to work after a maternity leave without contractually obligating your employer to do so, an employer typically wouldn\'t have legal recourse.
It\'s possible for some employers to charge you back for your health insurance premium if you don\'t return. Whether or not you return to work is purely a personal decision based on what is best for your family.
16. Falling pregnant while on maternity leave
If you become pregnant while on maternity leave, you will be entitled to most if not all the rights you had with your previous maternity leave. Meaning, you can be on maternity leave again if you get pregnant while you\'re already on maternity leave. You may not need to go back to work between your pregnancies. The only thing you may need to clarify is whether you get paid this time around.
17. Taking a Second Maternity Leave
You can start your second maternity leave as early as the 11th week before the week your baby is due. Give your employer as much notice as possible and at least the notice required by your contract when you resign. You may not be required to return to work during the notice period.
18. How To Decide if You Should Go Back to Work After Baby
This is a common thought that comes to mom when it is time to return to work. There are several things to consider before you make the final decision;
The following to should be Considered:
The flexibility your job offers
Can you take time off to care for your baby if needed?
Work hours, does your job require long hours, late nights or weekends
Does your job involve traveling?
Who carries the health insurance?
Can you afford to leave your job financially?
Final Thoughts
Returning to work after maternity leave is never an easy decision for working moms. The tips we've laid for you above should go a long way towards ensuring a successful return to work. Through proper time management and realistic affirmations, you can ensure that both you and your baby transition well to returning to work.